News
April 22, 2013
Special sale price for our Powell-Peralta Hawaiian Print shirt.
Special sale price for our Hawaiian Print shirts on the Skate One site. Show your Aloha Spirit by rocking your own Powell-Peralta Hawaiian Shirt! It is available in olive or black. If you like rocking Large shirts, we suggest you try it out in Medium. Click ->Aloha<- for more information on the shirts.
Mahalo :)

April 19, 2013
HAVE YOU HEARD THEM
When The Search For Animal Chin Special Edition DVD was released, putting Easter Eggs on DVDs was all the rage. So when we released the DVD, we put put a "Easter Egg' of ten Bonus hidden tunes on it. When it was released in 2005, we lets fans know to look for it. We think it's time to remind old fans, and let new fans know about these hidden tracks.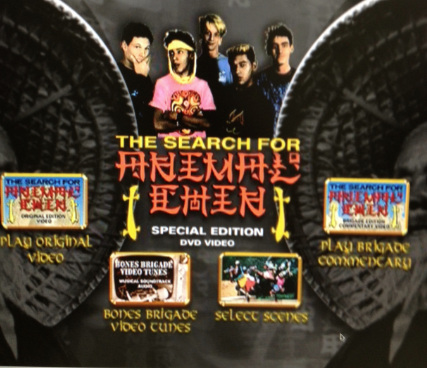 You will need The Search For Animal Chin Special Edition DVD. First load the DVD into your laptop, computer or player. When the main menu comes up, click on the Bones Brigade Video Tunes button.
When the Bones Brigade Video Tunes list comes up, take your cursor to the bottom right of the main menu screen. When you do a small white box will appear.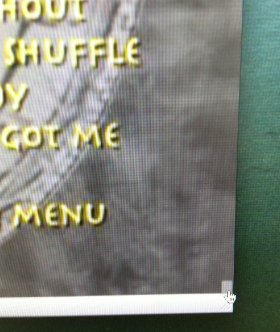 Enlarged image of white box.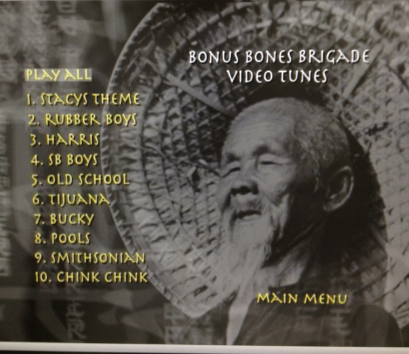 Click on the white box and you will be taken to a hidden screen with the Bonus list of songs. Have FUN.
April 17, 2013
Interviews with Lance Mountain, Mike Carroll, Jim Thiebaud, and more, plus a good amount of classic TG footage that was shown just before Tommy Guerrero received the Legend Award.
April 16, 2013
Josh Hawkins has the newest Tuesday 25 on the Skateboarder Magazine website. Enjoy some Q&A along with a few of Josh's amazing video parts.
April 16, 2013
Andy Macdonald made a stop at MuirSkate.com's Downhill disco for some fun on the miniramp and little freeriding.
April 15, 2013
A day of filming with Aldrin Garcia at the Sea Hawks 11 stair.
Terry Larue uploaded this video of Aldrin skating the Sea Hawks 11 stair. Aldrin throws down some sick tricks within the short time of skating at the spot.
April 15, 2013
Steven Reeves wants you to learn backside noseblunts.
Steven Reeves gives you a very helpful step by step process of learning how to Backside Noseblunt in transition. Watch this video then go try them out on your favorite transition spot!

More Alli Sports videos on their YouTube page.
April 14, 2013
Trevor McClung is one hell of a trooper!
April 14, 2013
Thanks again to Scott at MuirSkate.com for hosting the 4th Annual Downhill Disco. We skated, BBQ'd and held a wheel xchange, swapping out wheels with some happy skaters. these team riders K Rimes, Byron Essert, JM Duran, Tyler Howell and Hayden Conroy were on hand for 3 days of fun in San Diego. We also had special guests Andy Macdonald, Liam Morgan, Chance Gaul, Tim Del, Jimmy Riha, JP from Rip City and more hanging in the tent and chowing down on dogs and burgers. Can't wait til next year!
April 11, 2013
David Gravette's bonus footage is insane!