great stuff from "skateandannoy.com"
i love this guys articles!! if u dont know he reports on vintage sk8 stuff sold on ebay every month these are some of the funniest ones yet i was laughing out loud....christ..i need help.
"OK, what screamed "I'm a dork and proud of it!" louder than anything else in the late 80s? Following the lead of the Vision team and wearing their assortment of crap, especially fanny packs and the Vision beret. Well now you can relive your worst fashion disaster of the 80s by buying said matching beret and fanny pack on eBay. Yup, you can look like a complete tool again for only $50! Actually it'll be even worse today, because nobody will have ANY idea what that piece of crap on your head is. They might think you're special or something."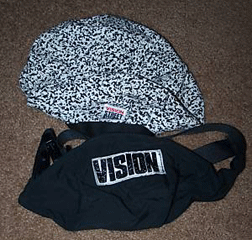 "So you had your Vision fanny pack and beret. But how to show the world that you were a "real" skater? Well how about these sweatpants from Powell Peralta? As you can see, they have ratbones going down the legs. Of course, maybe you'd prefer Vision pants too, because you wouldn't want your Powell pants to beat up your Vision fanny pack. Yeah, better stick with Vision Street Wear all the way round. You can't handle these pants. . . . Size large, $169."

my god.....is this one funny.. its my favorite.
"OK, now that you have your 80s skate wardrobe picked out, and your 80s skate tuneage, you might as well buy a piece of crap 80s ramp to skate on too. Well eBay is here to oblige! For only $799 you could buy this deathtrap of plywood and nails. Transitions? Transitions are for pussies! We like big banks that shoot you abruptly off the end of the ramp and into the trees beyond, assuming that your wheel didn't get stuck in the rotting plywood on the way up that is. What isn't evident from this shot is the huge, wheel stopping cracks in the flat bottom. If ever a ramp cried out for the daggers to burn it down it was this one. Where were Hook and Monk when you need them? If you look really carefully at the picture you can see a falling down well and a leaning basketball hoop. Maybe an earthquake went through the backyard. Amazingly enough, there were no bidders."
if u havent checked out his column. u need to it rocks. ebay watch @ skateandannoy.com